Jaisalmer Fort, Rajasthan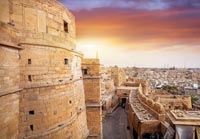 Jaisalmer Fort resides in the golden city of Jaisalmer in Rajasthan. It is counted among one of the very few "living forts" on the planet. Around one fourth of the old city's population stays within the fort's boundaries. Jaisalmer fort crowns the Trikuta Hill. Within the walls of Jaisalmer fort lays the old city, which is nearly a quarter of modern Jaisalmer. Jaisalmer fort has many entry gates. The Akshya Pol is the main entrance gate of the fort. Explore the Suraj Pol here decorated with a figure of Sun. The Hawa Pol is another giant Gateway bordered by palaces and courtyard.
Jaisalmer Fort is the second oldest fort in Rajasthan raised in 1156 AD by the Rajput Rawal Jaisal. The fort's gigantic yellow sandstone walls look awe-inspiring especially when the rays of sun fall on them. This is the reason why this fort also earned the name of Sonar Quila or Golden Fort. The fort is surrounded by vast expanse of the great Thar Desert.
The fort runs to 1,500 ft in length and 750 ft in width. The 7 Jain Temples of the fort look majestic. These temples were built in yellow sandstone during 12-16th century. There are also many Merchant Havelis which were built by wealthy merchants of the state. Some of these are even hundreds of years old.
How to Reach:
By Air: Jodhpur Airport is the closest airport to the fort.
By Rail: Jaisalmer has direct trains from the cities of Delhi and Jaipur.
By Road: Jaisalmer boasts a well maintained network of roadways. Numerous state run and private buses run here from Jodhpur, Jaipur, Bikaner, Mount Abu, Ahemdabad, etc.