Daulatabad Fort, Aurangabad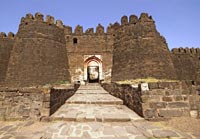 Daulatabad Fort is a 14th-century majestic fort city located in the state of Maharashtra. The fort looks beautiful with verdant greenery sprawling all around it. It is often termed as one of the 'seven wonders of Maharashtra' due to its unmatched architecture. The fort was raised by first Yadava king Bhillama V in 1187. It stands on an ancient hill about 200 meters high. This one of the best preserved forts in India exemplifies strength and power of the rulers in the history. It was initially named 'Devgiri'.
Daulatabad Fort has been constructed in the most spectacular way. The whole fort is guarded with huge bastions. During the rule of Tughlaq dynasty, the fort was strengthened more with canons and by building a strong wall of 5 km. The entrance features several mazes and puzzles which were strategically made to avoid entry of strangers into the fort.
How to Reach
By Air:? Closest airport from Daulatabad Fort is in Aurangabad, located at a distance of 22 km.
By Rail: Aurangabad Railway Station is the nearest rail head from Daulatabad Fort which is connected with all major Indian cities.
By Road: One can easily get buses for Daulatabad from Aurangabad.