Camel Festival Bikaner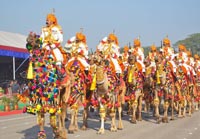 Camel Fair of Bikaner is a very popular annual fair of Rajasthan. The fair is hosted by the Department of Tourism, Art and Culture in the month of January every year to honour Camel, the ship of the desert. The event includes grand festivities which underline the vibrant cultures and traditions of Rajasthan.
History of Camel Festival
Camel Fair has been dedicated to camel, the animal who survives in the tough weather conditions of the desert. Bikaner has remained a popular breeding ground for camels from the time of Rao Bika Ji. Camels played a significant role in the historic battles fought in Rajasthan and thus, deserved a special honour which was given to them in the form of this festival.
Celebration of Camel Fair
The Camel Festival in Bikaner lasts for two days filled with colour and fun. The festivities begin with a vibrant parade where colourfully adorned camels march with the backdrop of regal Junagarh Fort. This sight is one of the most heart pleasing sites in Rajasthan. The camels are adorned with traditional mirror worked dresses and Rajasthani ornaments. The fair also hosts events like various camel games, Rajasthani folk dance performances and singing shows.
The Camel Festival not only glorifies camels but also brings out the traditions of Rajasthan in front of you. Do not miss out the enthralling Fire Dance performances and melodies of folk music which take you back into the history by weaving together numerous stories. The puppet shows here are also heart pleasing through which the locals narrate stories of Rajasthan's kings and queens. The festival ends with grand firework displays which make your jaws drop.
The festival ground also offers numerous options to savour the taste of Rajasthani dishes at stalls set up locals here. Also, indulge in some shopping to buy exquisite handicrafts, jewellery, pottery and other artefacts.
How to Reach
By Air: Jodhpur International Airport is the nearest airport to Bikaner receiving both domestic and international flights.?
By Rail: Bikaner has two railway stations namely Bikaner Junction and Lalgarh Railway Station.
By Road: Bikaner enjoys great connectivity with all parts of Rajasthan.