Indira Gandhi Boat Race, Cochin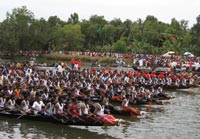 Indira Gandhi Boat Race is a cultural boat race which is also a festival organised in Cochin by Kerala Tourism Department. The boat race is organised during the last week of December amidst the beautiful backwaters which remain the most priceless gem of Kerala. Boat races are integral to Kerala. The state is known for hosting numerous exciting boat races like the Nehru Trophy Boat Race, Champakulam Moolam Boat Race, Aranmula Uthrattadi Vallamkali, and many others.
Indira Gandhi Boat Race brings out the fervour of locals of Kerala for their traditions. Huge boats are adorned and installed along the shores as the spectators enjoy their sights in thousands.
The race is celebrated in memory of Indira Gandhi, the late Prime Minister of India. Hundreds of oarsmen participate in this race from different villages. Each boat has around 100 to 125 oarsmen who row the boats in rhythm with exciting local music playing in the background. Spectators cheer their favourite team and enjoy sights of colourful dance performances and music along the shores.
How to Reach Cochin
By Air: The Cochin International Airport is well linked to major cities all across India.
By Rail: Cochin railway station receives train from all parts of the country.
By Road: Self drive option is also available from places like Goa, Mumbai, Lakshadweep, Colombo and Male.