Kumarakom Boat Race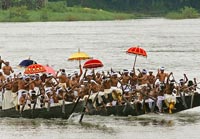 Kerala is one state of India where cultures breathe in every corner.? Where people are drenched into their religions. And where every celebration is solemnised with equal fervour. Though there are numerous wonders of this God's Own Country, one thing that makes Kerala really stand out remains its boat races.
Kumarakom Boat Race, also known with the name of Sree Narayana Jayanthi boat race, remains extremely popular in Kerala. The boat race is organised to mark the visit of Sree Narayana Guru, a famous social reformer, to Kumarakom. The event falls in the month of August or September.
The race sees hundreds of participants and thousands of spectators. Before the boat starts, a grand procession commences from the Kumaramangalam Temple and ends at Kottathodu. Devotees also perform various rituals at the Kumaramangalam temple and perform various dance forms like Theyyam and Kolkali.
Kumarakom Boat Race brings to you the fervour of the locals of Kumarakom towards their cultures and lets you peep into their age old rituals. Do not miss exploring the beauty of backwaters sprawling around which add to the fun element.
How to Reach Kumarakom
By Air: Kumarakom does not have an airport. Nearest airport is Kochi Airport which is 45 km away.
By Rail: Instead of Kumarakom travellers can board a train to Kottayam on regular basis.
By Road: Bus services are available to Kumarakom from all other parts of India.