Diwali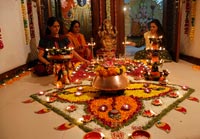 India is a land of exciting festivals which bring out the country's rich cultures. And out of all the celebrations held here, Diwali remains the most popular one. Fondly called the festival of lights, Diwali is celebrated in all parts of India with great fervour. The festival signifies the triumph of good over evil. It is believed that on this day Lord Rama along with his wife Sita and Brother Laxman returned to Ayodhya after completing 14 years of exile. People of Ayodhya celebrated their homecoming by lighting oil lamps. ?On the other hand some believe that the festival is dedicated to goddess Laxmi as she was born on the first day of the 5 day-long event. Diwali is basically a 5 day festival which includes Dhanteras (Day 1), Naraka Chaturdasi (Day 2), Lakshmi Puja (Day 3), Padwa, Balipratipada (Day 4), Bhai Duj and Bhaiya Dooji (Day 5).
Hindus believe that Diwali is an extremely auspicious festival which brings prosperity in life. Devotees worship Goddess Laxmi, deity of wealth and Lord Ganesha, deity of prosperity on this day.
The festival of Diwali is celebrated on a grand scale in all parts of India. People start preparing for Diwali well in advance by cleaning and painting their houses. Women decorate houses with beautiful flowers and mango leaves which are considered as auspicious. Rangolis are made using flowers and colours to please goddess Laxmi. Hindus believe that on the night of Diwali goddess Laxmi comes down on earth to bless devotees with wealth and prosperity. ?Devotees also prepare grand feast of delicious food to offer to deities during evening rituals.