Holi, Jaipur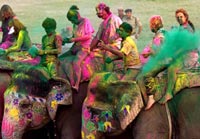 Holi, the festival of colours, is celebrated with great zeal in India. Though the celebrations of Holi can be witnessed everywhere in the country, Jaipur celebrates this vibrant festival with unmatched fervour. Holi of Jaipur is all about living the rich cultures and beautiful traditions of India. It brings along so many colours, dance forms, songs, and bag full of fun with it.
Holi is a spring festival of India having a great religious significance. The festival signifies the victory of good over evil. The celebrations of Holi begin with a Holika Dahan where people flock together to perform some rituals around the bonfire. Thereafter, next day people play Holi with colours and drench each other with water.
Jaipur, the pink city of Rajasthan, celebrates Holi in a beautiful way. The city oozes the most beautiful facades of Rajasthan which can also be seen in its Holi celebrations. Holi in Jaipur is clubbed with soul soothing Rajasthani folk music which adds to the fun element. People gather ?at various popular grounds irrespective of caste, colour, race, or social status to delve into the festivities of Holi. People from all over the world visit Jaipur to witness the festivities of Holi. Also, enjoy camel rides, dance performances by local artists, beautiful puppet shows and folk tales here. Many Holi fairs are organised all around the city where people can be seen mingling with each other and exchanging sweets. Buttermilk remains a popular drink savoured during this festival of colours. Other popular drinks of Holi include Bhaang and Thandai which add to the excitement of the festival.
Places to visit in Jaipur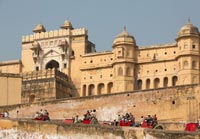 The city painting the state of Rajasthan with its pink hue, Jaipur brings out age old traditions and cultures. The city literally oozes royalty and opulence, and pictures grand forts, affluent heritage, colourful culture, warm hospitality, delicious cuisine and endless shopping options. Some of the historical wonders of Jaipur like Amber Fort, City Palace, Hawa Mahal and Nahargarh Fort narrate some astonishing stories of legendary Rajas and Maharajas of Rajasthan who once ruled this royal state. Also, do not miss visiting the local markets of the city like Johari Bazaar and Tripolia Bazaar where you can buy some beautiful local attire, traditional ornaments, handmade artefacts and much more.
How to Reach
By Air: The Jaipur airport, 12 kilometres from the heart of the city, serves both domestic as well as international flights.
By Rail: Jaipur is well connected via rails with all the Indian cities. Travellers can also take the pleasure of riding on luxury trains such as Palace on Wheels to experience the royalty of Rajasthan.
By Road: A road trip to Jaipur promises a lot of fun.