Pushkar Fair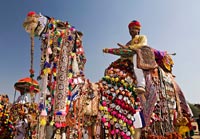 The Pushkar Fair or Pushkar Camel Fair is perhaps the most flamboyant display of colours of Rajasthan. It is simply a treat for those who are in love with the cultures and traditions adorning this royal state of India. Visit here and experience the most exciting annual camel and livestock fair which lasts for seven days. It is hosted between the months of October and November every year in the holy town of Pushkar. Pushkar Fair remains one of the biggest camel fairs on the planet and lures people from all over the globe.
The fair has a religious significance too. It is said that all Hindu gods and goddesses gathered at the holy Pushkar Lake on the day of Purnima and blessed with lake. Thus, thousands of pilgrims visit here every year to take dip into the holy waters of this sacred lake. It is believed that it washes away all your sins. ?Pushkar is also known for housing the only temple of Lord Brahma in the world.
Though Pushkar Mela is considered to be a camel trading fair, it also brings out the cultures of Rajasthan through various beautiful music and dance programs. See hundreds of camels and horses here adorned beautifully with traditional jewellery and attires. ?You can also enjoy camping here as numerous ac and non ac camps have been set up around the main fair ground. Do not miss the pleasure of Pushkar Glamping Experience. Daredevils must partake in a thrilling hot air ballooning to explore the beauty of this fair from bird's eye view. Pushkar Mela is a great opportunity for shopping enthusiasts looking for some delightful handicrafts, traditional jewellery and Rajasthani attires.
How to Reach:
By Air: The nearest airport from Pushkar is Sanganer Airport in Jaipur.
By Rail: Ajmer is also the nearest major railway station.
By Road: One can also enjoy a drive to the city from other parts of India.