Onam Festival, Kerala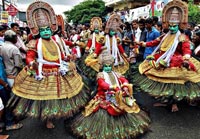 Onam remains the biggest festival of the Indian state of Kerala. This harvest festival depicts the depthless of local cultures and traditions residing here. Devotees believe that Onam is dedicated to King Mahabali whose spirit visits Kerala at the time of this festival.
The festival of Onam lasts for ten days. All these days represent the cultures and traditions of the state in the form of grand feasts, beautiful folk songs, graceful dances, lively games, elephants, boats and colourful flowers.
Women folk prepare Onasadya during this auspicious festival. This grand meal is prepared by everyone irrespective of social and financial status. The feast is served in a traditional manner on plantain leaves and has nine courses.
Vallam Kali which means boat races remains an integral part of Onam festival. Hundreds of locals participate in these boat races in which over 100 feet long boats are made which are then rowed by over 100 people. Aranmula Uthrattadhi Boat Race and the Nehru Trophy Boat Race are two famous boat races organised during the Onam festival. Locals can also been seen performing Pulikali which is a traditional tiger dance performance.? Kummattikali, a special mask dance also remains popular during Onam celebrations which is performed by both men and women. ?The festival transforms the state of Kerala in a cultural ground where every corner looks splendid with beautiful decors representing the liveliness of traditions residing here.
How to Reach Kerala
By Air: Thiruvananthapuram airport connects the state with all major Indian metropolises, including Delhi, Bangalore, Chennai and Mumbai. The airport also enjoys great connectivity with many of the gulf countries.
By Rail: Indian Railways is another option to visit this beautiful destination. Kerala boasts over 200 stations, making it easy for the travellers to access all the locations.
By Road: Roads in Kerala are extremely beautiful, and road journeys can be enjoyed by taking state buses, cars and tourist taxis. Neighbouring states like Andhra Pradesh, Karnataka and Tamil Nadu are well linked with Kerala via road.