Kohima Hornbill Festival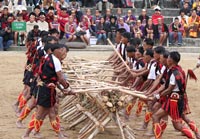 The most vibrant festival of Nagaland in Northeast India, Kohima Hornbill Festival is celebrated annually from 1 - 10 December. The locals of Nagaland celebrate this festival with great fervour and zeal. It has been named after Hornbill, an important bird of Nagaland whose significance can be seen in all songs, dance and drama performed here. The Hornbill Festival also highlights the indigenous warrior tribes of Nagaland and thus, lets you peep into the local cultures and traditions.
The people of Nagaland are extremely fond of their traditions and value their heritage. Though they have accepted the modern ways of living life, their festivals show the roots of their traditions. The state beautifully celebrates its ancient warriors and folk heroes in the form of various tales, songs and dance forms.
The Hornbill Festival is organised by the State Tourism and Art & Culture Departments. The festival is celebrated annually in Kohima. The visitors partaking in the festival gets a closer view of the rich culture of Nagaland through a melange of local food, songs, dances and customs. The weeklong festival sees abundance of multi-coloured performances, beautiful crafts, exciting sports, delicious food fairs, thrilling games and rich ceremonies. The Naga Morungs exhibition remains popular among visitors where they can bag art and craft, food stalls, herbal medicine, and much more. The Miss Nagaland is a local beauty contest organised during the festival which sees some beautiful local women in their traditional attires. During the evening hours, one can take pleasure of the Hornbill National Rock Concert where bands from all over the country perform.
How to Reach
By Air: Kohima does not have an airport of its own and the closest one is in Dimapur located at a distance of 74 kilometres.
By Rail: Due to its tough hilly terrain, Kohima doesn't have a railway station. The closest rail link is in Dimapur.
By Road: A very good network of roads makes Kohima accessible by road.