Ganesh Chaturthi, Maharashtra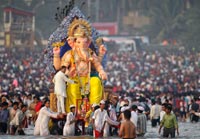 Ganesh Chaturthi is a very popular festival of India which is celebrated in every house of Maharashtra. Though the festivities of Ganesh Chaturthi can be seen in all parts of the country, Maharashtra remains completely drowned into this Hindu festival's hues. The festival is dedicated to Lord Ganesha who is believed to bring good luck in life. The locals of Maharashtra worship him with full faith during this grand festival which falls in August every year and lasts for 10 days.
At the beginning of the festival, the locals bring an idol of Lord Ganesha at their home. For 10 days, this idol is worshipped by the devotees with full fervour along with religious songs, sweets and other offerings. Devotees also dress the idol of Ganesha with beautiful attires made with colourful fabric along with tiny ornaments. Homemade modaks are also offered to the lord which is believed to be his favourite sweet.
On the final day of the festival, huge processions are carried out to the nearest water body where the idol is submerged into water. The procession is accompanied by devotees who can be seen chanting the holy phrase 'Ganapati Bappa Morya'. Devotees also play with multihued colours during the procession which is a beautiful sight to behold.
How to Reach
By Air: Chhatrapati International Airport of Mumbai remains the biggest and busiest airport in Maharashtra. Other international airports are in cities of Nagpur and Pune.
By Rail: Chhatrapati Shivaji Terminus in Mumbai remains the headquarters of the Central Railways of India. Other railway stations serving the state of Maharashtra are in Pune, Nashik, Nagpur, Kolhapur, Aurangabad and Amravati.
By Road: Maharashtra enjoys a well-connected road network and thus, both private and public buses are available from here to rest of the country.