Kaila Devi Fair, Karauli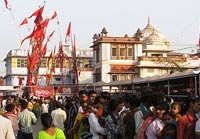 Rajasthan is a culturally rich state where you can experience the wonders of incredible India. The royal state takes you to the most vibrant forms of cultures and traditions residing in India. If you wish to see the fervour of locals here for their religions, then nothing can be as satisfying as partaking in the local fairs. And Kaila Devi Fair tops the list of fairs to visit in Rajasthan.
The Kailadevi Temple is a famous Hindu temple located in the Kaila Devi Village of Karauli district in Rajasthan. The temple is bordered by the famous Kalisil River which gives it a beautiful backdrop. The temple is known for hosting the popular Kaila Devi Fair where over 2 lakh devotees visit from all over the world.
Kaila Devi Fair holds great importance among the locals of Rajasthan. The fair showcases the beliefs of the locals towards their religion and cultures. Some devotees can be seen reaching the temple in lying prostrate which shows the depthless of their beliefs. They maintain this posture till they reach the temple. The journey to the temple is not an easy one and requires mental strength and will power.
Devotees also partake in all the festivities here with open heart and sing religious songs to please the deity. The festival is celebrated in the month of Chaitra which falls between March and April.
How to Reach
By Air: Jaipur Airport is the nearest airport from where you can reach the district of Karauli.
By Rail: Two major railway stations connecting to Karauli is Hindaun City and Gangapur railway station.
By Road: Road connectivity is also available in abundance.