Sonepur Mela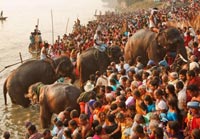 Sonepur Mela is celebrated in the town of Sonepur in the Indian state of Bihar. This is the biggest animal fair of Asia. The fair is celebrated on the confluence of river Ganges and Gandak. Here one can see traders buying and selling domesticated animals apart from numerous cultural events. The fair lasts for fifteen days to one month. It has a great historical significance. Earlier Hajipur was the main venue of the Sonepur Mela where rituals were conducted at the temple of Harihar Nath. However, under the rule of the Mughal Emperor Aurangzeb, the venue was changed to Sonepur. It is believed that Lord Rama originally constructed the temple of Harihar Nath when he was on his way to win the hand of Mata Sita. The temple was later restored by Raja Man Singh. However, the temple which we see today was built by Raja Ram Narain during the late Mughal period.
Sonepur Mela is a major event of Bihar where numerous animals are sold and bought, including dogs, Persian horses, rabbits, buffaloes, donkeys, ponies, goats, etc. One can also find people selling some beautiful varieties of birds and poultry. It was the sole fair where a large number of elephants were traded; however, it was prohibited since 2004 due to the enforcement of Wildlife Protection Act, 1972. However, one can still see beautifully adorned elephants exhibited here which add to the fun element.
Do not miss buying some local handicrafts and jewellery from the fair sold by the locals. This is also a great opportunity to taste delicious local dishes of Bihar.
How to Reach:
By Air: Nearest Airport to Sonpur is Jay Prakash Narayan International Airport at Patna.
By Rail: The Nearest Railway Station is Sonpur Junction railway station connecting almost every part of India.
By Road: Road network to Sonpur is also great and thus, one can easily reach here by road.