Winter Festival, Mount Abu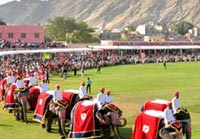 The Winter Festival in Mount Abu remains a popular winter festival of Rajasthan which lures people from all over the world to this beautiful hill station. The festival is organised jointly by Municipal Board of Tamil Nadu and the Rajasthan Tourism Development Corporation.
The Winter Festival is dedicated to flamboyant culture and tradition of Rajasthan. This three-day festival brings together too much fun and frolic amidst scenic location. The hill station of Mount Abu gets blanketed with vivid colours during this Winter Festival. This is the time to see performances by some great artists, including classical and folk singers. Experience the wonders of Daph, Ghoomar and Gair which are some local dance forms of Rajasthan.
The festival is also known for hosting various sports events which add to the fun element. Witness the exciting rowing competitions at the Nakki Lake. Cricket matches are also conducted where both locals and travellers can participate.
Another beautiful charmer of the Winter Festival is floating of thousands of lamps at the Nakki Lake after dark. This is a beautiful sight to behold. One can also partake in grand processions organised here during the celebrations which commence from Hotel Shikhar of Rajasthan Tourism Development Corporation and ends at Nakki Lake Chowk. The procession is accompanied by hundreds of people wearing colourful clothes, dancing on unearthly music and singing folk songs.
The Winter Festival is usually celebrated in the month of December when the hill station is embraced by the winter chills.
How to Reach
By Air: Dabok Airport, 104 km away from Mount Abu, is closest to reach the destination.
By Rail: Nearest train station to the hill station is in Morthala, Rajasthan.
By Road: The hill station is well connected to other major cities of the country via regular buses.