Mysore Dasara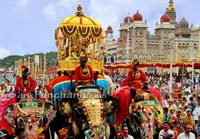 Mysore Dasara is a grand festival celebrated in the state of Karnataka. This 10-day festival starts with Navaratri and ends on the day of Vijayadashami. This auspicious festival symbolizes the victory of good over evil. Though in other parts of India Dusshera is a one day festival, in Mysore the festivities of Dusshera last for ten days promising great enthusiasm and excitement.
As per the legend, when Goddess Chamundeshwari killed demon Mahishasura the day was called as 'Vijaydashmi' which is the last day of the Dasara festival. ?Mysore has its own way of celebrating Dusshera since the 15th century. While during the ancient times it was celebrated by the kings of the prestigious Vijayanagar kingdom, later on the Wodeyar rulers of Mysore started celebrating it. Thus, it became a royal festival of Mysore.
Mysore Dasara begins with a grand procession which includes numerous exciting parades with beautifully decked up elephants on which the idol of Goddess Chamundeshwari is carried which is placed on a golden mantapa made of 750 kilograms of gold. Devotees accompany these elephants with their colourful dancing, singing, armed forces and some royal identities. The march starts from the majestic Mysore Palace and finally ends at Bannimantap. This traditional parade is known as Panjina Kavayithu.
During the celebrations of Mysore Dasara, the Mysore Palace is adorned like a new bride decked up with thousands of lights. Numerous cultural programs like dance, drama and singing shows are also organised here signifying the wealth of traditions residing here.
One of the major attractions during the festival of Mysore Dasara remains the Dasara exhibition where visitors get a chance to buy numerous items, including clothes, plastic items, kitchenware, cosmetics and eatables. Play areas are also set up for kids bringing loads of fun.
How to Reach Mysore
By Air: The nearest major airport to Mysore is the new Bangalore International Airport.
By Rail: Mysore is very well connected by rail with all other Indian cities.
By Road: Self drive or bus service options are also available.