Rath Yatra, Puri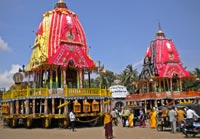 One of the most awaited festivals in India, Jagannath Rath Yatra is a gloried annual event celebrated at Puri in Odisha. This festival is dedicated to Lord Jagannath. Though this is a Hindu festival, it lures people of all religious, castes and creed.
The history of Jagannath Rath Yatra goes back to five thousand years as it has its references in Brahma Purana, Padma Purana, and Skanda Purana and Kapila Samhita.
During the yatra huge wooden idols of Lord Jagannath (Lord Krishna), his sister Goddess Subhadra and his elder brother Lord Balabhadra are carried from the Jagannath Temple to the Gundicha Temple on life size chariots. Lord Jagannath's Chariot is around 45.6 feet in height and has 18 wheels. Lord Balaram's Chariot is 45 feet in height whereas Goddess Subahdra's chariot is 44.6 feet high. The chariots are adorned with beautiful motifs and designs and are accompanied by singing and dancing of the devotees who flock here in thousands. Before the procession starts, the idols are bathed with 109 buckets of water by the devotees.
Thereafter, on the day of yatra the holy ritual of Chhera Pahara takes place which is witnessed by hordes of locals and pilgrims. This ritual signifies that everyone is same in the eyes of god. As the procession reaches the Jagannath Temple, the idols are adorned with new clothes. This ritual is called Suna Vesa. Then the deities are placed into the sanctum sanctorum to end the yatra.
Jagannath Rath Yatra represents the faith of Hindus in their religion and showcases some of the most beautiful facades of the cultures residing in India.
How to Reach
By Air: The nearest airport to Puri is Biju Patnaik Airport in Bhubaneswar.
By Rail: Puri is well connected with direct express and other super-fast trains with rest of the country.
By Road: Puri has a good network of roads and thus, one can take bus service or enjoy self drive to reach here.