Nagaur Fair, Nagaur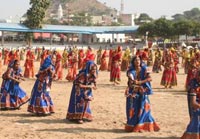 Rajasthan is a beautiful amalgamation of history, cultures religions and traditions. This royal state of India oozes immense luxury which can be seen in its royal forts, majestic palaces, deeply rooted locals, and of course its fairs. Nagaur Fair remains one of the most popular festivals of Rajasthan celebrated in the city of Nagaur. The festival showcases the vivid charms of the state through diverse programs.
Celebration of Nagaur Fair
The most charming aspect of the Nagaur Fair is the vibrancy of cultures and traditions showcased here. Here you can see locals dressed in beautiful Rajasthani attires, particularly women folk who add more colour to this fair. The fair also acts as a trading ground for cattle where over two lakh ten thousand animals are brought for selling and buying purpose. This fair proudly boasts of being the second largest cattle fair in the country.
The Nagaur Fair also brings loads of excitement with locals and travellers indulging in various games like tug-of-war, camel and bullock races. During evening hours, you can indulge in folk music and dance along with mouth-watering Rajasthani food items.? The festival lasts for 4 days brimming with fun and frolic and is a great charmer for the devotees of Indian cultures and traditions.
Places to Visit in Nagaur
Located between Jodhpur and Bikaner, Nagaur is a historic city which was laid in 12th century. Nagaur Fort remains a must visit historical monument here which saw rise and fall of numerous empires. The fort looks grand with intricate ornamental work depicting the richness of Indian architecture. Also, visit the Deepak Mahal known for its exclusive styles and beautiful paintings. The breathtaking palace is a visual treat for the worshippers of architecture and looks charismatic especially in the evening when earthen lamps are lit all over the palace. To explore the religious beliefs of the locals here, visit Tarkeen Dargah, a significant Muslim shrine. Built in the remembrance of Khwaja Hamiduddin Nagauri, this Dargah remains a must visit in Nagaur. Do not miss out the Amar Singh's Cenotaph. The gorgeous yellow stonework of the Cenotaph along with its historical tales make it a must visit place.
How to Reach
By Air: The nearest airport to the city is Jodhpur Airport.
By Rail: Nagaur has a railway station of its own and thus, rail travel is an easy option to reach the city.
By Road: Nagaur is well connected to rest of Rajasthan via road.