Kumbh Mela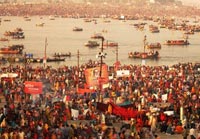 Kumbh Mela is the biggest religious fair organised in India once in every twelve years. This massive Hindu fair is visited by pilgrims, sadhus and yogis from all over the world to take the sacred bath in the holy water of River Ganga. The fair shows the fervour of Indians for their religion and deep roots of their cultures. This is the largest religious gathering in the world which makes many jaws drop.
Traditionally, four fairs are known as the Kumbh Melas, including the Haridwar Kumbh Mela, the Allahabad Kumbh Mela, the Nashik-Trimbakeshwar Simhastha, and Ujjain Simhastha.
Kumbh Mela has a legendary history. It is believed that the story behind it goes to thousands of years ago when gods and demons decided to churn the ocean to get the Kumbh (pot) filled with nectar of immortality (Amrit). This nectar was supported to be divided equally between demons and gods. However, when the pot with nectar appeared, the demons ran away with it which resulted in a fight. The fight continued for twelve days and twelve nights during which the drops of amrit sprinkled at four places - Prayag, Haridwar, Ujjain and Nasik. These locations then became the celebration grounds for Kumbh mela.
Devotees partaking in Kumbh Mela flock here to take the auspicious bath in the holy Ganges. It is believed that this bath washes away all your sins and helps you in attaining Moksha.? Kumbh Mela is a beautiful sight to behold where millions of people can be seen indulging in religious rituals.
Upcoming Kumbh Mela
Allahabad will host 2019 Ardh Kumbh
Haridwar will be the venue for 2022
How to Reach Allahabad:
By Air: Bamrauli Airport connects Allahabad with other major cities of the country via regular flights.
By Rail: Chheoki (COI), Naini (NYN), Bamhrauli (BMU), Allahabad Junction (ALD), Phaphamau Junction (PFM), Subedarganj (SFG), Allahabad City (ALY), Prayag (PRG) are some of the railway stations serving the city of Allahabad.
By Road: There are regular buses from other major cities of India to Allahabad.
How to Reach Haridwar:
By Air: Nearest airport to Haridwar is Dehra Dun Airport located at a distance of 41 km away.
By Rail: Haridwar Junction (HW), Motichur (MOTC) and Landaura (LDR) connect the city with rest of the country.
By Road: You can easily get regular buses to Haridwar from other major cities of the country.