Elephant Festival, Jaipur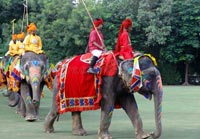 Elephant Festival is a grand festival held in Jaipur, the Pink city of Rajasthan. This one of a kind festival holds some astonishing competitions like Elephant polo and Elephant Dance. It starts with a huge procession where elephants decorated with vibrant colours, attires and ornaments march along with dancers and singers. The owners of the elephants have a tough completion of making their elephants look stand out with best attires and traditional jewels. Then the most beautiful looking elephant is awarded with the prize.
Other competitions organised during the event include polo match and a tug of war contest where a single strongest elephant pulls a group of 10 elephants alone. ?The sight of this festival seems like a bag full of colours where you can cherish all the gems of Rajasthan under one horizon.
Places to visit in Jaipur
The capital of Rajasthan, Jaipur is known for its unparalleled beauty, majestic history and unmatched cultures. Everything about this city is grand. Visit the massive Hawa Mahal which makes many jaws drop with its 953 small windows. These windows were made to let royal women enjoy street festivals without being seen by the locals. City Palace also stuns everyone with its imposing structure and marvellous architecture. ?The palace houses numerous courtyards, edifices and sprawling gardens built with a blend of Mughal and Rajput architecture styles. Amber Fort also catches the attention of all with its majestic history and extensive complex. Perched on the top of the Aravali Hill, the fort flaunts an impressive traditional Hindu and Rajputana style of architecture. Other must visit places in Jaipur include Albert Hall Museum, Nahargarh Fort, Rambagh Palace, Jaigarh Fort, etc.
How to Reach
By Air: The Jaipur airport is the primary airport serving the city.
By Rail: The city has great rail connectivity too.
By Road: Numerous buses are available from Jaipur to all parts of India. A self drive road trip to Jaipur is a lot of fun.