Mewar Festival, Udaipur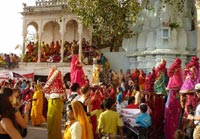 Mewar Festival is a renowned festival of Rajasthan celebrated in the city of Udaipur. The festival is celebrated with great fervour in the city where locals can be seen wearing colourful attires in all possible colours. The history of Mewar Festival goes back to the time when the Sisodia dynasty ruled India.
The festivities of Mewar Festival include lots of activities. Huge processions with idols of Gangaur and Isar are carried out all over the city by dancing and singing devotees. The procession ends at the Gangaur Ghat of Lake Pichola. The festival also sees numerous cultural events and activities such as local dance performances, traditional songs, and other cultural programs.
During the festival, the young unmarried girls pray for grooms of their choice whereas married women pray for good health of their husbands. Women folk can be seen singing songs of ghudlia and carrying earthen pots on their heads in which they collect various items on their way. This ritual lasts for 10 days. The last three days of Mewar festival are extremely exciting where huge procession is carried out through the city with dancing devotees, drummers, camels and elephants. This is truly a beautiful sight to behold. As the procession ends, girls destroy their pots and throw all their collected items in the pond. Sugary Ghewar remains a popular sweet item distributed during this festival.
How to Reach
By Air: Udaipur airport connects Udaipur with other major cities of India, including Delhi, Jaipur, Jodhpur, Aurangabad and Mumbai.
By Rail: Udaipur Railway station has links with Delhi, Chittor, Ahmedabad, Jaipur, Ajmer and Jodhpur.
By Road: Road connectivity is also available with numerous private and state owned buses operational here.