Snake Boat Races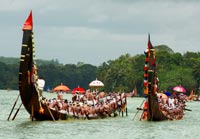 Snake boat races of Kerala are popular all over the world for their vibrant celebrations. There are months when the state comes alive with beautiful snake boats bringing out the exciting cultures and unique traditions dwelling here. A snake boat race is a traditional boat race wherein thousands of people participate to win. Typical snake boats are of usually 100 to 120 feet long and are rowed by over 100 rowers. Locals take great pride in their snake boats and leave no stone unturned in adorning them in the most unique way.
Some of the most popular snake boat races held in Kerala include:
Nehru Trophy Boat Race
The Nehru Trophy Boat Race is organised in the Punnamada Lake near Alappuzha in Kerala. The race is organised every year on the second Saturday of August. The race is organised in memory of India's late Prime Minister, Jawahar Lal Nehru. It first held in 1952 and has continued on ever since. Thousands of spectators gather to witness grand boats running over water. The race brings too much excitement among travellers and locals alike.
Champakkulam Moolam Snake Boat Race?
This, one of the oldest races in Kerala, has a more religious significance. It marks the day when the idol of Lord Krishna was placed in the Sree Krishna Temple in Ambalappuzha. On the day of boat race, thousands of beautiful looking boats can be seen parked along the shoreline of the river.? The sight of cheering oarsmen dressed in colourful attires is indeed beautiful during the race.
Aranmula Snake Boat Race
The Aranmula Boat Race is the oldest boat race in Kerala. The race is organised at Aranmula near a Hindu temple which has been dedicated to Lord Krishna and Arjuna. The most astonishing aspect about this race is that the boats move together in pairs as the singing and applauding crowd cheer at the shoreline. The oarsmen indulge in singing of traditional songs as they row the boat.
President's Trophy Boat Race
The President's Trophy Boat Race is a renowned boat race organised on the Ashtamudi Lake in Kollam. It is celebrated every year on 1st of November to mark the birth of the Indian state of Kerala. This remains a popular celebration held during the harvest festival of Onam. President's Trophy Boat Race has a total of five categories of races, including Chundan Vallam (snake-boats), two grades of Veppu Vallam, and two grades of Iruttukuthi Vallam. As the oarsmen row through the calmness of the serene lake, spectators erupt out of joy.
Payippad Boat Race
This special boat race marks the installation of the idol of Lord Subramanya at Haripad Subramanya Temple. The race lasts for three days full of enthusiasm and fun. Thousands of devotees flock around the Payippad Lake in Alappuzha district of Kerala to witness the race which underlines beautiful facades of Kerala's cultures and traditions.