Nehru Boat Race, Alleppey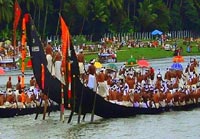 The Nehru Trophy Boat Race is hosted on the Punnamda Lake near Alappuzha, Kerala. The race has historical connections as when late Pandit Jawaharlal Nehru, the then Prime Minister of India visited Alappuzha, he travelled from Kottayam to Alappuzha on a boat. This boat race was first organised in 1952 in the honour of Panditji and became an important part of the region. Panditji got so thrilled and excited during the performance of the oarsmen that he jumped into the Nadubhagam Chundan. The boat continued to the boat jetty carrying the Prime Minister. After experiencing the terrific excitement of sailing in a snake-boat, he donated a trophy to be awarded to the winner of the race.
This annual boat race falls on the second Saturday of August and brings great cheer to locals and travellers alike. On the day of Nehru Boat Race, the calm water of Punnamda Lake becomes furious and shadows numerous vibrant colours. Lakhs of spectators flock at the shores to witness this grand event which is a great sight to behold. Locals take the Nehru Trophy Boat Race very seriously and start preparing for it well in advance.
The day of the Nehru Trophy Boat Race is grand and brings loads of excitement. Giant snake boats are prepared and adorned to make them stand out of the rest. Some of them are of even 100 feet long. Seeing hundreds of men rowing life size boats in a rhythm is a beautiful experience. Winning this race is a matter of pride for the participants as well as for villagers.
How to Reach
By Air: The Cochin International Airport is the nearest airport to Alleppey located at a distance of 75 kilometres.
By Rail: The Alleppey Railway Station is well linked to Cochin and Trivandrum.
By Road: Alleppey enjoys great road network and thus, self drive option as well as state run buses can be availed.