Khajuraho Dance Festival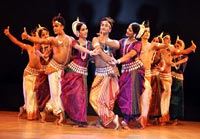 Khajuraho dance festival is a beautiful treat for the lovers of Indian music and dance. The festival is hosted by the Madhya Pradesh Kala Parishad. The festival enjoys a splendid location of Khajuraho temples in Chhatarpur district of Madhya Pradesh. It not only highlights the wonders of Indian dance forms but also impresses visitors with its vivacious ancient stories linked with it. People from all parts of the world visit the state of Madhya Pradesh to witness this culturally rich festival which celebrates the rich art of Indian dance.
Khajuraho is a prominent historical site in India which has always been associated with classical dance forms. This UNESCO World Heritage Site dates back to the 10-12th century. It makes many jaws drop with its exquisite carvings which are around 200 years old. From day to day activities to karmic sexual activities, sculptures here portray everything. Khajuraho temples make the most beautiful backdrop to the Khajuraho dance festival, thus, making the even more spectacular.
Be a participant in this festival which sees some of the world renowned classical dance performers portraying various Indian dance forms, including Kathak, Bharathnatyam, Odissi, Kuchipudi, Kathakali, Manipuri, etc. Dancers look fascinating wearing vibrant attires, traditional jewellery and beautiful makeup. This is an open air event organised in the auditoriums of the Chitragupta and Vishwanatha Temple.
The festival is a sheer pleasure for the devotees of art and history. It brings out the glory of India as a traditionally rich country and takes you on a majestic journey to the past of India.
How to Reach
By Air: Khajuraho has a domestic airport which connects it with all major Indian cities.
By Rail: Khajuraho railway station is also linked with cities like New Delhi.
By Road: A good bus network, both private and state- owned, serves Khajuraho. Also, most of the cities in Madhya Pradesh are well-connected with Khajuraho and thus, self drive option is also available.